What Is Ginger Libation?
Ginger Libation is an effervescent, pre-prohibition style ginger beer with a pleasant sweetness and distinctive ginger zing!  Artisan Beverage Cooperative has been making this popular beverage since 2010!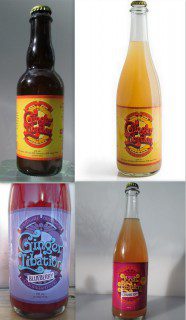 Ginger Libation Styles
The Orignal Ginger Libation: Tropical flavors of pineapple, lemon and lime combined with fresh ginger root. Amazing! Two bottle sizes.
Local Libation: This seasonal favorite uses local, young ginger, freshly-pressed apple cider from the gorgeous orchards of the Pioneer Valley, and local cranberries. Slightly less sweet than the original with a bright ginger zing. We make this ephemeral libation once per year in the autumn when the ginger, apples and cranberries are harvested.
Blueberry Libation: This sophisticated ginger beverage has a subtle essence of blueberry and beautiful color. We make it with freshly-pressed, organic blueberries and a touch of lime.
Gluten-free. No sulfites added. Organic, fair-trade, or local ingredients.
 The History – Why Did this Delicious Beverage Disappear?
In a word, Prohibition!
The first known commercial ginger beer was brewed in Europe in the mid 18th century using Jamaican ginger and a natural fermentation process. It was cloudy, zesty & could contain as much as 11% alcohol by volume. (Ours is 9% ABV.)
Ginger beer was exported to the United States from England in the 1790's before breweries popped up in the United States. U.S.production continued until, at the height of its popularity, Prohibition brought it to a halt. Ginger Beer was replaced with soft drinks, including ginger ale.
Real ginger beer faded into obscurity UNTIL Now!
Note: Ginger "beer" is a bit of a misnomer. Beer contains grain and true ginger beer does not. It is actually wine. Ginger wine is a confusing title as well because it drinks like a beer. A beverage this tasty and unique deserves it's own label: Ginger Libation!
Our Process
We start with fresh organic ginger root. Lots of it. We then add organic, Costa Rican pineapple juice, organic lemon and lime juice and organic cane sugar from the Manduvira Cooperative in Paraguay. Once all of the ingredients have been stirred in the tank, this delicious, spicy mixture is ready to ferment. We pitch a gluten-free yeast into the fermenter and let the magic happen. When the process is complete we have our Ginger Libation.
Enjoy a glass or bottle today!

Food Pairing
Ginger Libation is food-friendly and pairs with an array of foods from casual dishes such as nachos and pizza to suppers from simple to formal including grilled salmon, red lentil soup, risotto, or a holiday roast. It is especially good with Thai Red Curry.
Our Suppliers - Ginger Libation